Our volunteer program brings members of the community to the farm every week, under a shared mission to support our staff and our mission.
From the field to the barn, this land provides many opportunities to lend a hand. There are ways to dig in all over our 28-acre Regenerative Organic Farm and ecological nonprofit in San Juan Capistrano.
We invite you to get involved with one of our dedicated teams such as Orchard Ohana, Chicken Tenders, and Farm Share or pick up a few shifts helping with Peace Pizza, packing up our pantry add-ons, saving seeds, or making bouquets, or come seasonally to help with festivals and community dinners.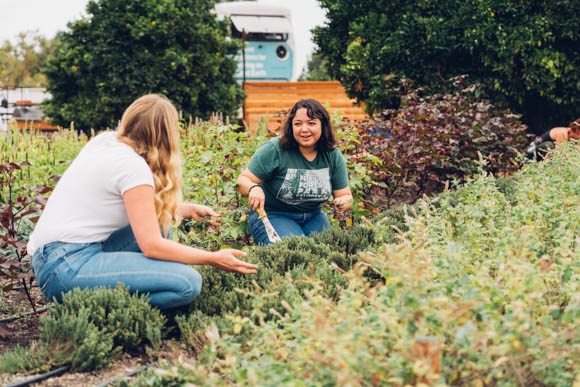 Interested in getting involved? Follow the steps below to become a volunteer. 
Explore our website to learn about who we are, what we do, and how you could see yourself participating in this work.
Next up, we want to get to know you so we can help curate a meaningful experience for you. To start, please click here to take a survey to let us know your volunteer preferences.
Once you have completed the survey, a member from our team will record your contact information and assign you to your area of interest.
Last thing, we have a bit of housekeeping to do before we can start working together. Please fill out the volunteer waiver and bring it with you to your first volunteering shift.
We have a high demand for volunteering and limited jobs so please be patient, as it may take some time for volunteer opportunities to become available. We will reach out to you when opportunities become available. We know what you are most interested in thanks to your survey participation, but we will also share other activities and ways to get involved. 
We are excited to welcome you to our village and are so grateful for all that our volunteers do. Note that every volunteer opportunity is by RSVP only, unless you are a member of one of our established teams.
Additional Notes:
At this time, we are only welcoming volunteers age 15 and older onto the farm.
Always wear closed-toed shoes and clothes you don't mind getting dirty at the farm.
You must RSVP to attend a volunteer shift.