You can experiment with different combinations of citrus zest and juice, utilizing everything from sour grapefruits to sweet mandarins and bright limes to match your personal taste. This salad is a reminder that winter in Southern California is brighter than most. 
| | For The Salad |
| --- | --- |
| 2 | bulbs fennel, shaved thin with a knife of Japanese mandolin |
| 2-3 | assorted citrus such as Cara Cara, Satsuma, or grapefruit, peeled and cut into slices or segments |
| 1/2 cup | almonds, roasted and chopped |
| 1 cup | arugula, rinsed, drained, and spun |
| | For The Dressing |
| --- | --- |
| 1 | shallot |
| 1/2 | clove garlic, pounded or grated |
| 1/2 cup | olive oil |
| 1 tbsp | champagne vinegar |
| 3 tsp | citrus juice |
| 2 tsp | mixed citrus zest |
| 1 tsp | dijon mustard |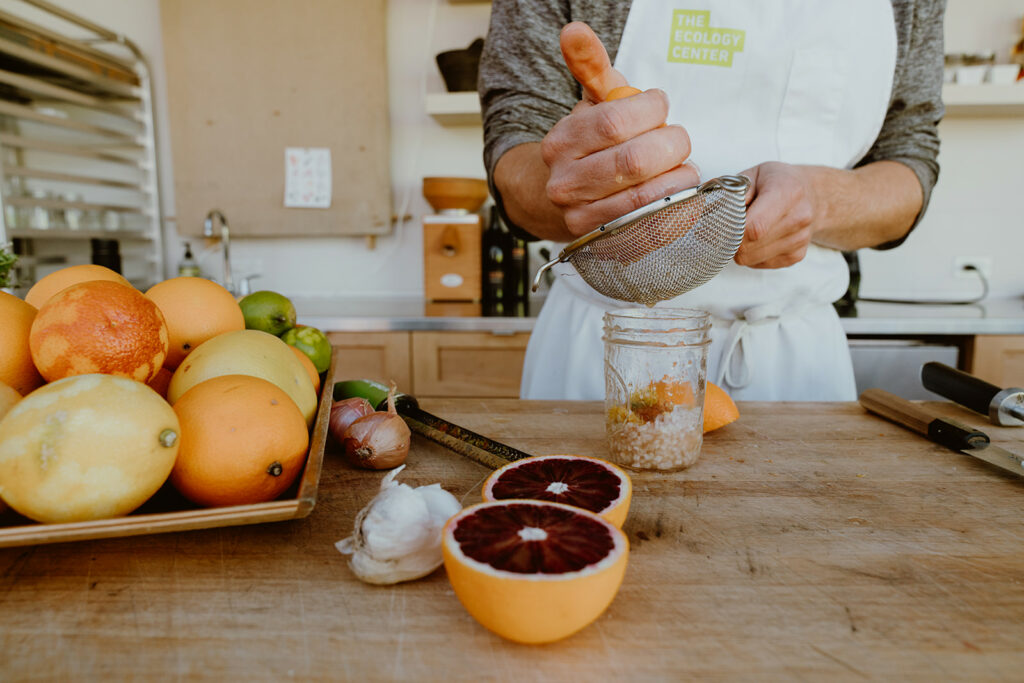 Start by making your dressing base. You will macerate garlic, shallots, mustard and a mix of citrus zest in citrus juice and champagne vinegar along with a pinch of salt. The longer this mixture is able to macerate, the more pronounced the flavors will be in your dressing. Finely mince the shallot, grate or pound the garlic, zest a variety of citrus, and place in a jar. Add champagne vinegar, squeeze in the citrus juice, and add a pinch of salt. Stir and set aside.
Prepare the fennel by removing any scarred outer layers and trimming off the green tops. Shave them thin, about ⅛" with a sharp knife or a japanese mandolin until you reach the fibrous core. If using a knife, you will need to half the bulb first to give yourself a flat cutting surface.
You can peel citrus with loose skins, such as satsuma mandarins, by hand and lightly shave away excess pith with a paring knife. For other citrus, 'supreme' them with a sharp knife. First cut off the top and bottom of the peels so they sit flat on your cutting board. Then cut away the peel and pith from the flesh from top to bottom, following the shape of the fruit. Your goal is to produce globes rather than hexagons (but both will taste great)!
Now finish your dressing by adding the olive oil and stirring or shaking, then taste for balance. You want your dressing to be bright but not sharp. That is, you want a pop of mouthwatering, citrus-y acidity, but you don't want it to be too harsh or sour. You can counteract sharpness by balancing it out with additional oil or mellow it with another pinch of salt which can also enhance the brightness of the citrus flavors.
Assemble the salad by placing a few pieces of citrus around the plate. Then toss together the arugula and shaved fennel with a pinch of salt and splash of dressing. Place the arugula and fennel on the center of the plate, using your fingers to help it fall into a fluffy heap. Sprinkle the chopped almonds over the greens and around the place. Then take a spoonful of dressing with lots of shallots and spoon it around the plate, making sure to hit the citrus.
Serve immediately!
Tip: Roasting your own almonds gives you a far superior flavor to buying pre roasted almonds. They will taste more fresh and can be roasted more perfectly as you can watch them closely. Roast them on a sheet pan in a 350 degree oven, stirring frequently. Begin checking them for doneness after about 7 minutes but checking to see if they are golden to the center – preferably by biting them in half! Once they are, remove from the oven, transfer to a bowl and toss or stir them with a little bit of salt and some olive oil. Let them cool and then coarsely chop them for the salad.